4D Products' skills were tested to extreme earlier this year when a Swedish TV camera crew took TimeCode Buddy and three cameras plus GoPros up Mount Kilimanjaro. TimeCode Buddy helps TV and film makers to synchronise cameras on a shoot. It makes life easier and saves costs and time in post-production. 4D Products was approached to help with design expertise in its commercialisation; taking the prototype to a saleable product.
Paul Scurrell, CEO of Timecode Systems Ltd. now a 2016 'Game Changer Award' winning company said, "TimeCode Buddy had to meet the demanding requirements of the broadcast industry – it had to work in every type of condition and location, on any type of shoot."
Marcus Skogstrom, director of photography for the programme reported; "Everything worked great technically – all the gear really held up amazingly to some pretty rough weather and transport."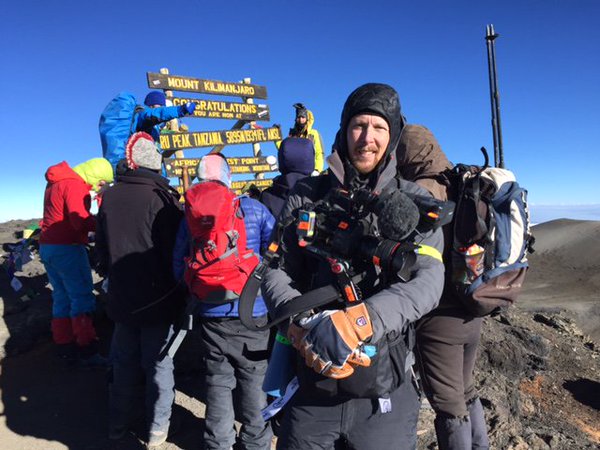 Photo courtesy of Thomas Pickelner.
"Designing robust products for challenging environments is part of any brief but was particularly important for TimeCode Buddy," says 4D Products' Design Director, Iain McCall. "It's great to hear reports that our work with the client, in this case Timecode Systems, pays off. Paul and his colleagues were great to work with."
Paul Scurrell added; "Working with 4D Products has been a pleasure from the outset. They were exceptional when it came to understanding our needs and getting to know our market. From design right through to manufacture, their commitment to delivering something outstanding never wavered, changed or flagged."
The full story of TimeCode Buddy's development and 3D animation can be found here: https://4dproducts.co.uk/projects/electronic-enclosure-design-03 with further news on where else it has been spotted including film sets here:  https://4dproducts.co.uk/news