After a successful product launch, the original Sabre X17 and DCX tattoo machines have steadily been taking the tattoo world by storm, Sabre and 4D Products havent been resting on our laurels.
We are more than a little excited to see 4 new Sabre products at their first outing at The London Tattoo Convention 2016.
New to the range are pro grade power supply, foot switch, RCA power lead, and the fantastic Sabre Air light weight tattoo machine. All available in 7 eye watering colour combinations. a first in the tattoo industry.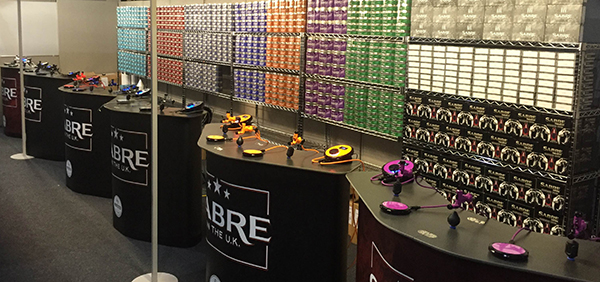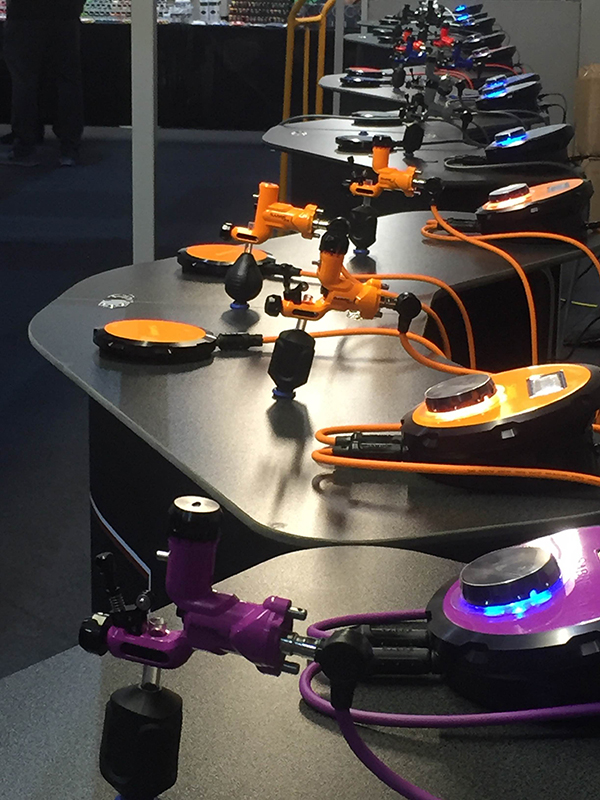 SABRE AIR TATTOO MACHINE
SABRE POWER SUPPLY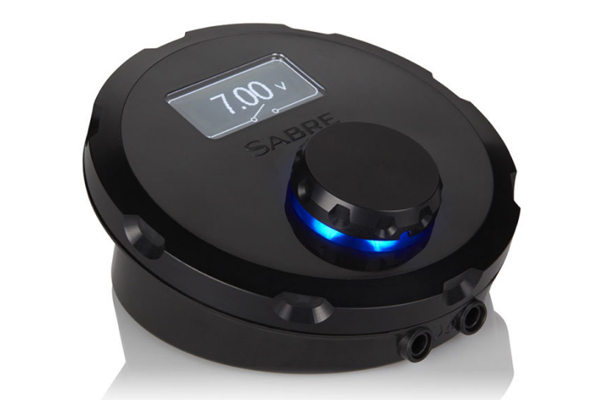 Its powerful microprocessor can constantly monitor and adjust the output voltage to give a rock steady voltage under all load conditions.
Sabre has been specifically over engineered to ensure complete robustness and reliability up to and beyond the design specifications.
With its maximum output voltage of 16V and powerful 2A of current the Sabre unit can push out a whopping 30W of power with ease.
The Vault is protected against overload and short circuits, it will perform every day guaranteed, giving total reliability.
OLED SCREEN
The high contrast OLED graphic display is angled and the best there is.
EASE OF USE
So simple and functional, press once for normal mode, twice for continuous.
CONTROL DIAL
The multifunction aluminium control dial is a breeze to operate and makes for ease of adjustment when your hands are already busy.
DIAL COVERS
Yes the designers have thought of everything! Cross contamination is eliminated without the use for barrier film by using the disposable dial covers.
MADE IN THE UK
The first power supply to be designed and manufactured in the UK.
Works worldwide.
OUTER CASING
Constructed from scratch resistant BioCote® ABS and black anodised aircraft aluminium.
BIOCOTE® ANTIMICROBIAL TECHNOLOGY
Sabre have teamed up with BioCote® making it the first power supply to house antimicrobial technology.
BioCote® is added during manufacturing and lasts for the life of the power supply.
SABRE RCA LEAD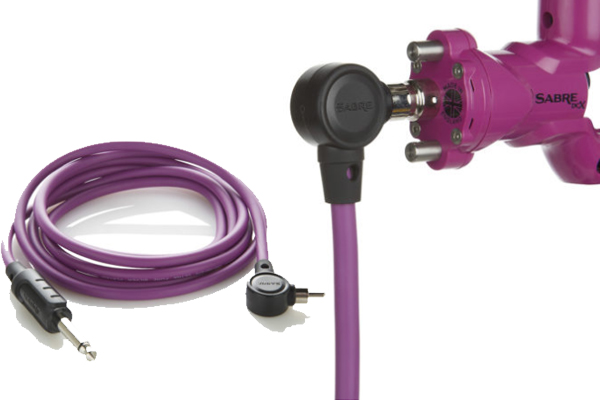 VAN DAMME – PRO GRADE INSTRUMENT CABLE
Made from silver plated copper wire coated in a highly flexible 1.7mm PVC/Neoprene sleeve. Shockproof, heat proof and has a high tensile strength. The best there is.
CUSTOM SABRE CONNECTORS
The custom made mould is a sealed unit and houses the highest quality RCA connectors. The fluid connection means the cable can move whilst working whilst still giving a rock solid supply of power.
SABRE FOOT SWITCH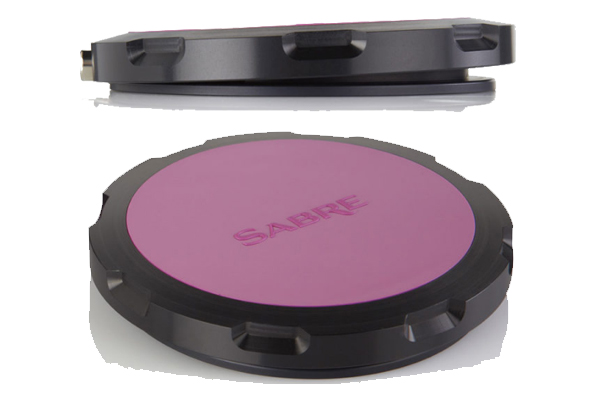 A robust footswitch built to last, the large work area can be activated with only the slightest touch making easy work of any tattoo.
MADE IN THE UK
The first footswitch to be designed and manufactured in the UK.
INNER CASING
Constructed from scratch resistant BioCote® ABS.
OUTER CASING
The stunning black accents are manufactured from the finest aircraft aluminium and black anodised.