A unique aeroplane-shaped swimming aid's sales have 'taken off' for a Cheshire coach turned inventor. Chris Shore turned to Warrington based product designers 4D Products for help in designing and launching AquaPlane. He now has the backing of Olympic and Commonwealth Games stars for his revolutionary aeroplane-shaped swimming aid, with sales already online and in stores.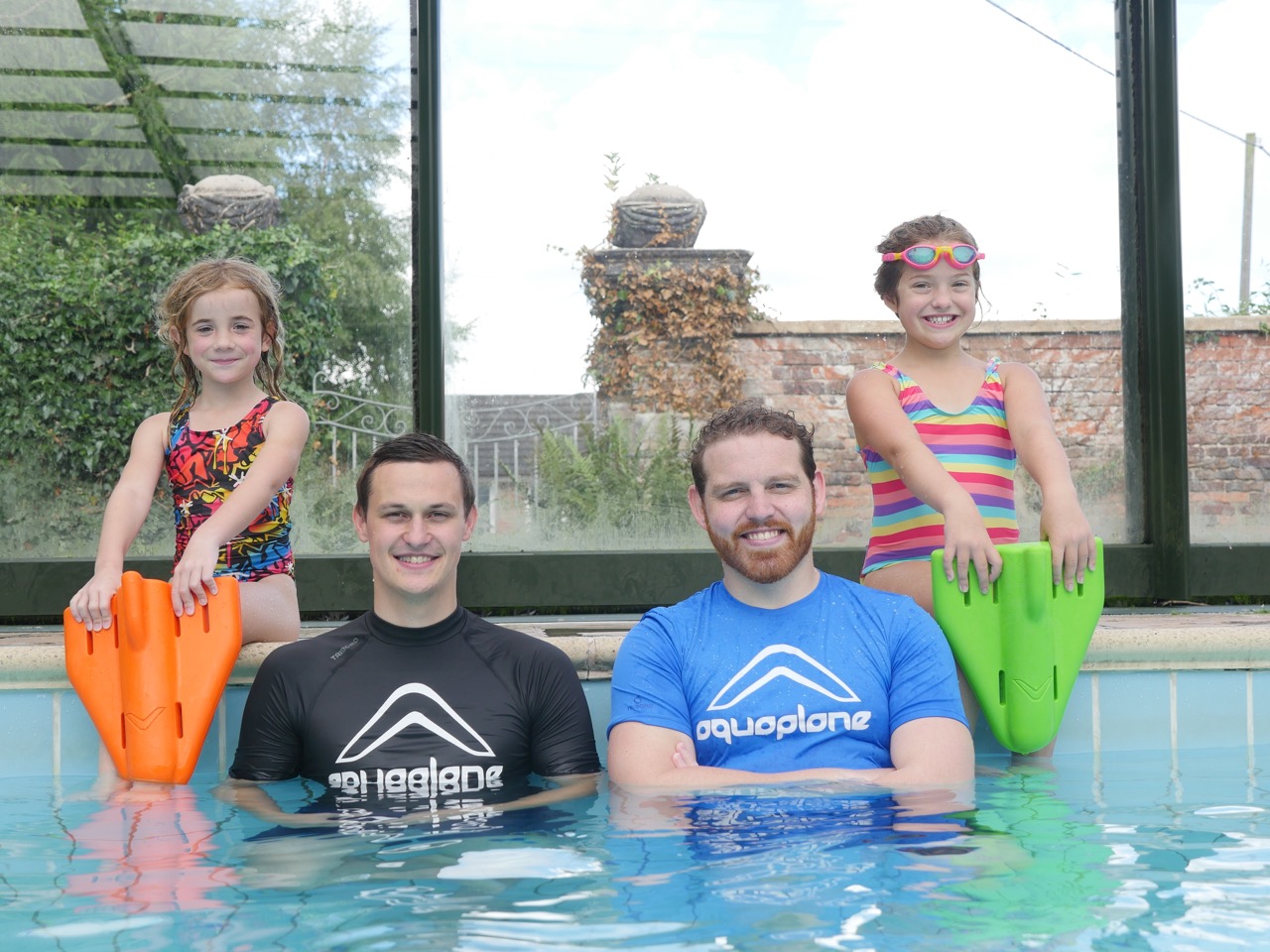 Chris Shore from Northwich, Cheshire was frustrated with the limitations of armbands and other buoyancy aids while teaching youngsters how to swim. So the 28-year-old used his knowledge and experience in combination with 4D Products' design and manufacturing skills to launch his own flotation device and AquaPlane was born.
"Nothing was giving my students the support they needed," said Chris, who runs Cheshire-based Shore Swim club. There are many issues with swimming aids such as restricting a child's movement, incorrect buoyancy levels and lowering a child's confidence when the aids are removed. I wanted to take away these barriers to children learning. It was a challenge but I couldn't ignore the opportunity to make a difference to young swimmers."
AquaPlane is a unique three-in-one swimming aid covering all the main stages of swimming development which starts out as a back float. The product is also already used by other swim schools across the UK including Puddle Ducks, which teaches more than 20,000 children.
Commonwealth Games gold medallist and Olympian Chris Cook has endorsed AquaPlane and uses them at his own swim school. He said: "Our swimmers love the freedom the AquaPlane gives them in the water. It works wonders for their technique."
Both former British swimmer and Commonwealth Games finalist Dan Coombs and Commonwealth Games gold medallist and Olympian Chris Cook have endorsed AquaPlane, using it for teaching others. "I use AquaPlane to help children increase confidence and adopt the correct body position when learning to swim," said Dan. It is a big hit with parents too.
Jamie Gagnon from Scotland praised the "great design idea". She said; "Until now my five-year-old has been swimming with arm floats, but I found she was reluctant to use her arms. I took her to the pool last night for the first time with AquaPlane and within 10 minutes she was swimming around confidently and using her arms. She loves it."
Iain McCall, Co-Founder and Design Director for 4D Products said; "We wanted to design a multi-use product that appeals to children and parents and met the price when manufactured. To begin with, the AquaPlane flotation device is worn on the back, so the child is swimming in the correct position while practising all strokes including backstroke. It has a lower profile and is wider than other back floats giving children better balance when swimming on their backs. When the child is ready, the straps are taken off and it is used as a kick board to enhance stroke development. Later, it turns into a performance tool to build stamina and strength.
As the aid has multiple uses it saves instructors having to carry around and store lots of different equipment, which is proving a big selling point." He added; "The design is internationally protected and complies with international safety standards too which means international sales are possible too."
Chris now hopes to expand his range of stockists and is also looking to sell overseas.
AquaPlane is for children aged three and over and is available in four vibrant colours for £22.99 from Argos, Toys R'Us and the AquaPlane website at www.aqua-plane.co.uk .
Photo: In use with older children. Chris Shore (left) and Dan Coombs (right) in the water.